Tuesday, 19 July 2005
Why do renters move so often?
20 % of RENTERS MOVE EVERY YEAR!
This is the fact that the Mike Harris Conservative government of Ontario used to get rid of rent control. He figured it would take 5 years to rid the market of rent control apartments. I wonder how well it worked?
Many landlords say they don't build better units because people move too often.
It has become very obvious to me that people move often hoping to find better built units. And QUIET & PRIVACY - REAL PEACE - is likely the most significant item they would like to be BETTER.
PEOPLE MOVE OFTEN BECAUSE UNITS ARE SO BAD.
HOW STUPID CAN BUILDERS AND INVESTORS BE?
ALL NEW APARTMENTS & CONDOS BUILT TO THE CANADIAN STANDARD (National Research Council Committee on Building Codes) ARE A WASTE OF INVESTMENT MONEY! THE CODE DOES NOT PRODUCE SOUNDPROOF UNITS - LUXURY IS THE SAME AS POOR PEOPLE SUBSIDIZED
Posted by hughphoto at 10:39 PM EDT | post your comment (0) | link to this post
Monday, 18 July 2005
Where I've been
Mood: loud
I have moved 69 times in my 73 years
(Nov. 2004 last b day as of now)
living in 59 different places (some twice).
All this in Ottawa or Toronto and now, the last place, in Killaloe on a hillside where I can see all the way to Renfrew. (That's when it isn't too heat hazy like today.)
Only 4 places were decently soundproof.
We are building hell on earth and making it permanent through indifference, lies and disbelief.
Posted by hughphoto at 8:31 PM EDT | post your comment (1) | link to this post
Sunday, 17 July 2005
The good & the bad in apartment housing
Mood: don't ask
The close building here is one of the quietest places I've ever lived built in the early 60's and is made of solid concrete. It's old and tired now but way better than most high rise apartments you'd find these days - better in fact than most so-called luxury condos. The reason as I've been observing over 25 years plus is that in the early 60's designers/builders began using steel stud walls and little concrete. The steel studs make walls into microphones transfering sound up, down and sideways. Room sizes may affect this quality but a recent (June 2005)bit of information to me from a relieable source tells me that a $1,000,000.00 condo bought by a successful bank employee in Toronto is bad enough that when the bankers brother - who lives in the country - sat to dinner with the banker, they were assailed by loud music from above. In the worst places you will be able to understand some conversation through walls, ceilings, floors & doors.
The near building is great, but the one in the distance - the last I lived in, in Ottawa, ON, Canada (three years to 1998) is one of the worst, but common.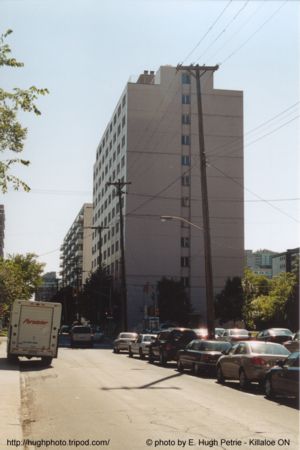 When I was young - 24 - I expected I'd be able to rent a decent apartment some day that could provide quiet, peace, & privacy. I did not expect to find that this would be rare and that luxury would be no more private and quiet than a rooming house.
Unfortunately most buyers will never admit to the poor quality for they are in a double bind of economics - despite that this bad quality is the norm in the market place. In fact, it's the norm because people won't move to change it. It could be better, but never will be as things are going.
You can read more on the subject at my alternate web site for the subject About bad noisy housing
And that's enough of this for today.
Posted by hughphoto at 8:36 PM EDT | post your comment (0) | link to this post
Updated: Monday, 18 July 2005 8:06 PM EDT
Saturday, 16 July 2005
Mood: don't ask
Day one - or rather - night one.
73 year old photographer, artist (ha!) complainer checks into a new blog on his tripod site. Who will read it? Who will care?
Society is building hell on earth housing without a care or concern for how it affects them. People sucked into buying noisy condo's won't adimit it for fear of losing sale value - and the truth is that almost nothing - multi million dollar or subsidized apartment - has been made soundproof quality since the late 1960's when cheap walls with steel studs became the norm in construction instead of solid poured contrete.
Bah, humbug! Enough for now.
Life moves slowly - too slowly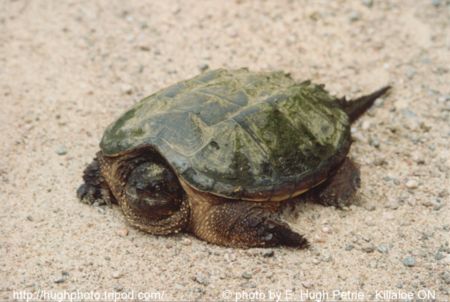 Posted by hughphoto at 10:02 PM EDT | post your comment (0) | link to this post

Newer

Posted by hughphoto at 10:17 PM EDT
Updated: Friday, 22 July 2005 10:58 PM EDT